Countdown to Dominic's Demos…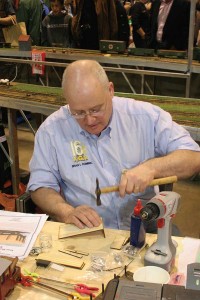 Time Team used to have just three days to excavate an archaeological site, but the Association of 16mm Narrow Gauge Modellers wants to go one better and build a train in less than five hours!
As part of the Budget Boulevard section of the 2017 National Garden Railway Show (to be held on Saturday 8th April at Peterborough Arena) Director Brian Dominic will be demonstrating how quick and easy it is to build modern kits made from laser cut wood or MDF, or cast from resin.
To prove the point he constantly makes that "anyone can build these kits" he will start as the Show opens to assemble a Swift Sixteen Teeny Weeny Tank Wagon, build a Houston Gate Locomotive Works LB1 body and Deluxe Battery Electric Chassis kit, and a flat wagon from Wood Valley Works, with the aim of having a complete train ready to be one of the prizes in the Grand Draw taking place at 4.00pm.
The only work that will be done in advance will be to wire up and test the electrics on the loco, but only to save bringing more tools to the Show. Opinion is currently divided as to whether he should pack up most of his workshop to bring to the Show, or whether or not to manage with the minimum of tools and risk it, but with 105 traders at the show we're sure someone would help him out!
The final finish will mainly be spray paint (though the flat wagon is likely to get the dilute Indian ink wash and black painted underframe treatment meted out to Brian's wagons in the past) so a fan heater and lots of floristry wire will be packed to enable quick drying. As the aim is to get all three vehicles finished in time for the Association Grand Draw, you'll be very welcome to drop by and talk to him, but please don't hold up the work!
Thanks are due to these suppliers for supplying the kits to the Association gratis.
Swift Sixteen:
https://www.swiftsixteen.co.uk/
Teeny-Weeny-Wagon
Houston Gate Loco Works:
http://www.hglw.co.uk/
Wood Valley Works:
http://www.woodvalleyworks.co.uk/eastwood.php