Shuttle Bus between Peterborough Station and Arena, and return
Keep a look out for the big Lime-green double 'Decker Bus' machine. Please note: bus picture for illustration purposes only.
Bus tickets are £5 – unlimited travel on the day. Purchase your bus ticket before boarding the bus. We are increasing the number of stewards to minimise delay. Online advance ticket sales for the bus service will be available from 15th January. Tickets can also be purchased in advance using the form that will be enclosed with the February 2018 mailing, and posting it along with a cheque and stamped, self-addressed envelope to the address on the form.
Timetable details were correct at the time of printing. Please note, the organisers may make changes without giving prior notice.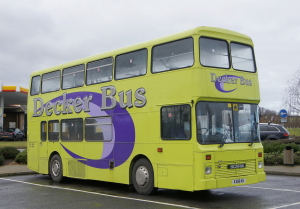 | Depart Peterborough Railway Station | Depart main car park at the Arena |
| --- | --- |
| 9.00am | 9.20am |
| 9.45am | 10.10am |
| 10.30am | 10.55am |
| 11.15am | 11.40am |
| 12.00 noon | 12.25pm |
| 12.45pm | 2.30pm |
| 2.50pm | 3.10pm |
| 3.30pm | 3.50pm |
| 4.10pm | 4.30pm |
| 4.50pm | 5.10pm |